Outcomes and Results
Archway Arete serves as the feeder school to Arete Prep, where their students are outperforming their peers across the country.
At Great Hearts we seek to prepare all our scholars for acceptance into their first choice university. Our graduates go on to many of the most prestigious universities both in-state and across the nation. We are especially proud of the fact that 7 out of 10 of them earn merit-based scholarships. Below is a summary of some of the factors we measure.
We encourage you to explore beyond these numbers – come visit our campus and ask us about how our graduates are thriving at college, how many are completing their studies within 4 years and what they are going on to achieve in their careers.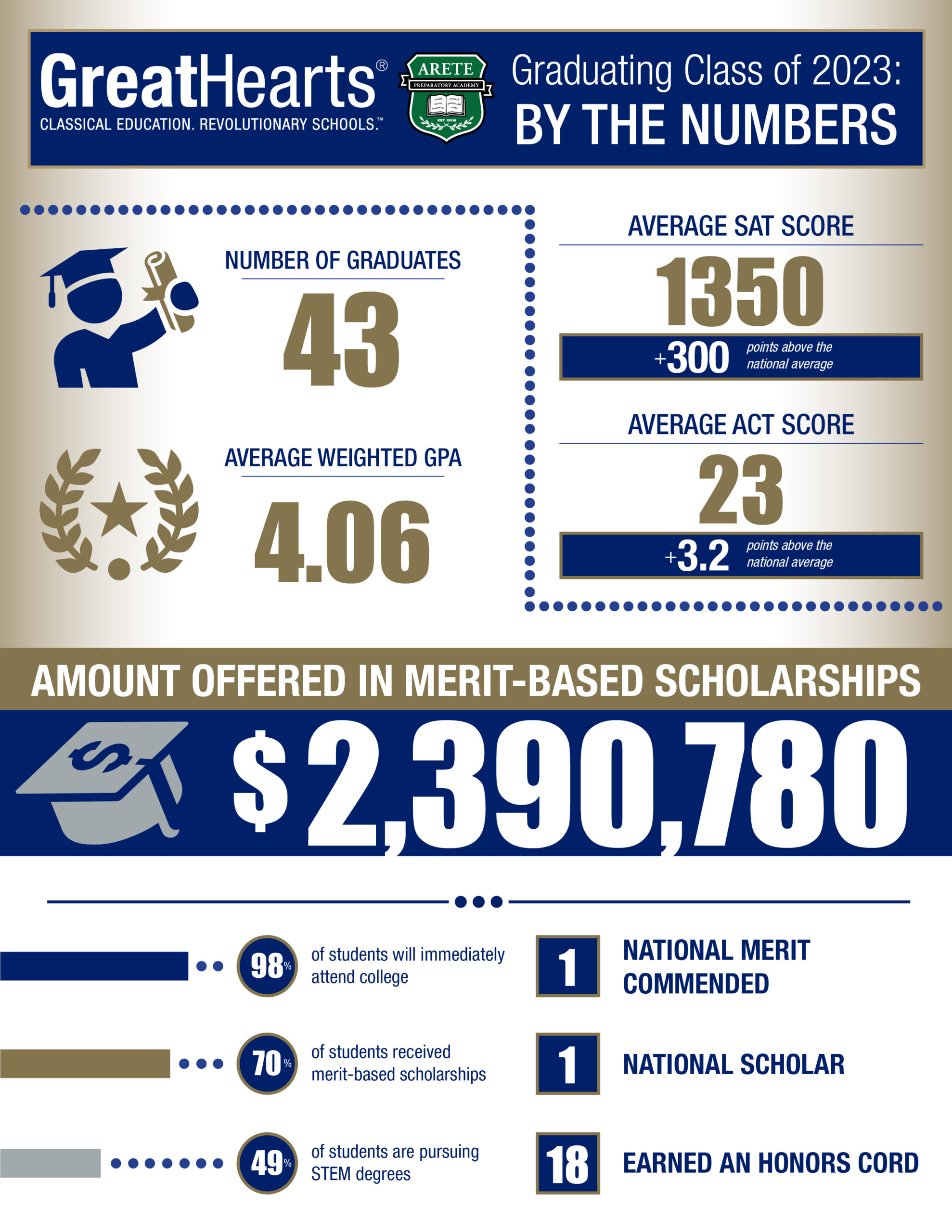 The class of 2023 by the numbers:
43 graduates
$2,390,780 in merit-based scholarships
70% of our grads earned some form of merit aid
1 National Merit Commended, 1 National Scholar
The average SAT score was 1350, +300 over the national average
The average ACT score was 23, +3.2 points above the national average
The class of 2022 by the numbers:
51 graduates
$4,941,624 in merit-based scholarships
73% of our grads earned some form of merit aid
3 National Merit Commended, 1 National Scholar
The average SAT score was 1178, +118 over the national average
The average ACT score was 22.5, +2.2 points above the national average


The class of 2021 by the numbers:

47 graduates
$2,797,900 in merit-based scholarships
70% of our grads earned some form of merit aid
2 students enlisted in the military, 21 students graduated with Honors, 115 total college acceptances
The average SAT score was 1233, +173 over the national average
The average ACT score was 26, +5.4 points above the national average